50-52 Valley Street, Providence RI
Sometimes lightning does strike twice. In 1773, business entrepreneur Christopher Olney built a small outpost to expand his thriving Rising Sun Paper Mill; today, The Armory Revival Company and partner Struever Brothers, Eccles & Rouse have transformed this outpost into a delightful loft apartment complex that includes street-front commercial space.
Twenty-five spacious lofts, with sturdy post and beam construction, generous maple kitchens  and expansive windows that offer abundant natural lighting, epitomize stylish loft living – luxuries now available at remarkably affordable pricing. For companies seeking business space, Calender Mills' street-level units are an attractive option; the striking spaces feature all of the amenities found in traditional office settings, coupled with a location providing quick and easy access to downtown Providence, I-95, I-195, Route 6 and Route 10. The headquarters of the United Way of Rhode Island anchors Calender Mills; two additional commercial units enliven the street level of 52 Valley Street.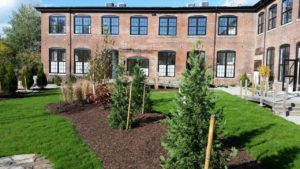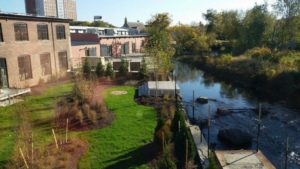 More About this Project
Project Website: CalenderMills.com
401-453-3700
Beth Jenkins
Property Manager